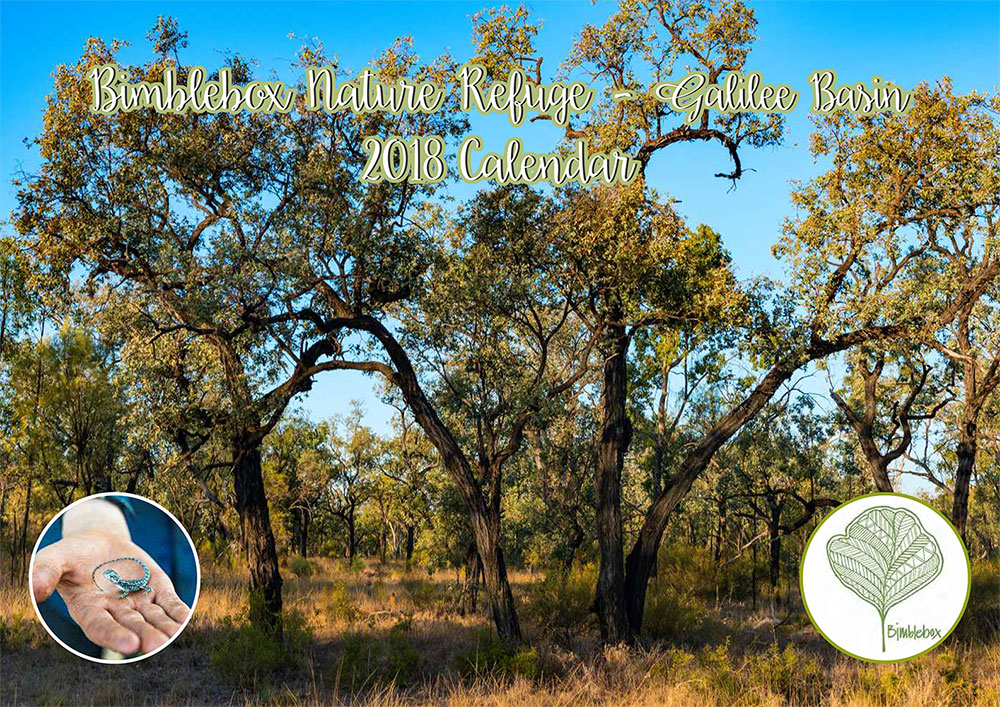 Support the Bimblebox Nature Refuge by purchasing a 2018 Calendar via this link.
The 2018 Bimblebox Nature Refuge Calendar features artwork and photographs of wildlife and landscape taken at and responding to the Bimblebox Nature Refuge.
Calendars can be ordered online 
here
.
Online prices include postage, and the price per calendar decreases with increasing numbers of calendars purchased, up to 10 calendars. One to 3 calendars cost $17 each, 4 to 9 calendars cost $15 each and 10 to 20 cost $14 each.
Calendars can be obtained in person at $15 each from outlets:
Green Grocer, 144 Boundary St, West End,  Brisbane, QLD, 07 3844 7961;
The Wilderness Society, 67 Boundary Street, South Brisbane, 07 3846 1420;
RFT Sheds, 65 Churchill Street, Post Office Complex, Childers (Walk up café ramp and turn right), Mara Rogers, 0400 672 560;
Mackay Conservation Group Environment Centre, 156 Wood St, Mackay, QLD 4740, 07 4953 0808
Reverse Garbage, 20 Burke St, Wooloongabba, QLD 4102, 07 38919744.
Calendars will also be available at these three stalls during the  Woodford Folk Festival: The WWF shop,
Protect the Bush Alliance
Birds Australia.
July is The Shining Bronze Cuckoo v. the Short Term Greed, featuring a beautiful bird and one of Australia's 'characters' in an etching by Susan Goddard for Bimblebox 153 Birds.
And November, this gorgeous photograph by Greg Harm.